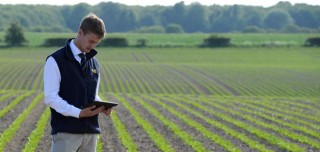 ​While some of our customers are already familiar with our farm management platform, MyFarm, a recent upgrade has led to some exciting developments to its applications and overall functionality.
Free to all Frontier customers, the latest version has been designed as a result of farmer-feedback. The platform now provides a one-stop shop to manage every aspect of your farm business online, encouraging you to challenge your production while keeping you at the forefront of technological development.
Your time is precious, so it should be used as effectively as possible and MyFarm helps you to do just that. You can use its library of applications to focus on what's really important, as each ones allows you to see and manage your key information in one place and under one login.
​MyAccount – the newest application within MyFarm lets you see trading information relevant to your farm business. This includes access to all your financial information and transactions, contracts, grain movements and sampling results. As well as keeping you up-to-date with the goings-on of your business, MyAccount also serves as a useful and, importantly, safe archive to help you monitor performance and efficiency.
MySoyl – a comprehensive precision farming application from industry leaders, SOYL. It allows you to view satellite and biomass imagery and manage yield data, soil analysis data and relevant information to give a real time picture of your crops' condition. The application can also include additional tools to support variable rate planning for lime, nitrogen and P&K applications which can be cross linked by year and season.
MyCropMarketing – access 24-hour grain markets and prices, extended trading hours, price alerts and the ability to sell your grain online. Giving you greater flexibility and access to prices alongside your Frontier farm trader, this application also allows you to view and manage your contracts, as well as set favourites for chosen commodities.
Greenlight Grower Management – available in MyFarm through Muddy Boots' software, this cloud-based crop recording application gives you and your agronomist the ability to interact and share data with one another, from anything including recommendations to records of applications being carried out. While this is incredibly time-saving, it also means you are always working on one version of the truth. Alongside this, we're also working on the addition of Gatekeeper from Farmplan which, although still in its early stages, promises to enhance this experience even further once live.
---
---