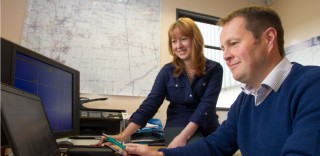 Digital innovation, new technology and the million reasons why I have been doing everything wrong for the last 30 years seem to be everywhere at the moment. The press is full of stories about technology that promises me robots and self-driving tractors, as well as predictions of when my crops will next be under attack by everything from septoria to slugs.
There is no doubt that an industry under as much as scrutiny as ours will adopt some of this forward-thinking tech in years to come. I envision it becoming the norm; the 'techy' guys we all know will become the early adopters and, before you know it, we'll find it is suddenly commonplace on every farm – including our own.
While the hi-tech topics are exciting to hear and learn about, and certainly aren't going anywhere soon, what's talked about much less in the low hanging fruit. These are the tasks, advantages and efficiencies that any one of us can employ right now to help future-proof our business. Of course, they are much less sexy than a robot that drives your tractor for you, but it's these things that can instantly make life on farm easier and your business more productive.
One such piece of 'fruit' is MyAccount, the administrative application available in Frontier's farm management platform, MyFarm. While not as eccentric as some of the futuristic farming concepts we often hear about, MyAccount is a great step forward as it gives you access to an innovative, interactive and secure online space that literally puts the management of your farm at your fingertips.
Everything associated with your Frontier account is digitally available
Every Frontier customer has the ability to make MyAccount part of their farm office. Available as part of the wider – and free – MyFarm platform, the application gives you access to all trading, financial, grain and movement information connected with your account.
Full transaction information
Once you're in MyAccount, you can see all of your transactions in one place whenever you need to. These include any crop protection purchased, grain sales, associated payments, price adjustments, monthly breakdowns, invoices and an overall financial balance. In addition, the ability to filter by product, transaction type, payment status and period means you can always find exactly what you are looking for – saving you time and giving you peace of mind.
Contracts and movements
We know how important it is to be able to record and refer back to any of your contracts relating to crop protection, fertiliser and grain, which is why MyAccount makes it so easy. Gone are the days of rifling through filing cabinets and folders looking for hard copies; you can rest safe in the knowledge that everything you need can be accessed online quickly and easily.
As well as contracts of sale, all your movements are recorded too. Should you ever need to recall where your grain did or didn't go, you can see what hasn't moved, what has, when it moved, who moved it and in which vehicle for full traceability and efficient record-keeping.
Grain samples
MyAccount stores all of your grain samples, making them available for comparison so that you can review any differences in analysis. You can print your results for other means too.
Managing access levels
We understand that it won't always be you alone that needs access to the above information, which is why our MyFarm platform allows you to add and manage multiple account users as a whole. For example, if the information in MyAccount is of relevance to other members of your farm team, you can request that they be allowed access too – a great way to improve communication on-farm and ensure everyone can see the same information all of the time.
Getting the best from your business
I know it's not as awe-inspiring as artificial intelligence on farm but the use of an application like MyAccount can be one great step to making your business more efficient, sustainable and geared up for the future.
Of course, we'll always have the news stories about incredible technological innovations and impending disease threats, but it's important to have a well-run farm by the time these come along.
For more information about the benefits of MyAccount and other applications available within our MyFarm platform, please visit our website or contact our support team by emailing This email address is being protected from spambots. You need JavaScript enabled to view it. or calling 03330 141141.
---
Alongside its divisions, SOYL and Kings, Frontier is hosting a series of 17 winter training events. Open to all farmers interested in learning more about the use of digital technology to improve crop production performance, the events will include valuable insight into MyFarm and its role as a complete farm management platform.
You can find your local event and book your place by visiting our website.
---