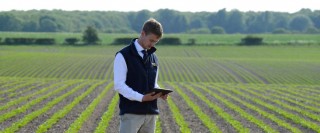 At this point of the year, I find that New Year's resolutions tend to have gone one of three ways. They are either still going strong (well done if that's you), have merely been forgotten about, or have fallen at the wayside because although you tried, one small blip meant you had to shelve it for next year so you can try again.
While I'm often in the group who start with the best of intentions but don't quite see them through, there is one 'resolution' that I simply haven't been able to ignore: adapting to change.
This year, food production is under pressure from many different angles and regardless of your view on the validity of change, we can be certain that UK agriculture will need to adjust in order to survive and thrive.
Digital tools can play a big part in this by their very nature of being resilient, sustainable and future proof. So, why not let 2020 be the year you embrace technology and explore what it has to offer?
There are lots of things you can do to welcome change without being overwhelmed by it. For many of us – particularly with emerging technologies – it's a transition and we need to find what works for us personally. Here are some top tips:
Try a different way to access and manage your information
If managing your business information means trawling through a large filing cabinet, there's a huge opportunity for you to do things differently.
If you are already a customer of Frontier, you can get up and running with our online farm management platform, MyFarm, right away. When you log in, information related to your account is already waiting for you in the platform's MyAccount application, including financial documentation, movements and contracts.
In addition, you need only switch screens into the MyCropMarketing application to have easy access to live grain prices, price alerts and the ability to trade grain outside of usual working hours. MySOYL, the platform's precision farming application from SOYL, gives you an overview of spatial variation across your business too, while anything related to agronomy can be recorded and updated in Greenlight and MyRecs.
With such an array of digital services available, there are good opportunities for you to embrace new tools; give them a concerted go and not just a quick 'look-see'. Practically, you could commit to accessing your financial records in MyAccount instead of relying on the monthly postal statement. Use biomass maps in MySOYL to see how your crops are developing before you go out field-walking. Have a look on MyCropMarketing to see how the grain markets are doing before you call your farm trader.
Involve your whole team
If you haven't already, take a look at your business and think about what digital tools could benefit your team and help them to work more efficiently. If you are running the business, naturally you will benefit from all of the applications available in our MyFarm platform. However, it's likely that there are several people you work with who could use various parts of the system, from the likes of office administration to recording crop protection activity (think of your farm secretary or sprayer operator).
It's easy to get started – simply contact This email address is being protected from spambots. You need JavaScript enabled to view it. and your team can be set up and fully trained on the system.
Start small
As already mentioned, taking on new methods and processes should be a transition. You don't need to digitise the entire business – it depends on your needs and requirements as you determine what works best for you. For example, using MyFarm's MyAccount application to manage the administrative side of your farm could be the single most-important change you need before moving onto more powerful areas such as MyCropMarketing or MySOYL.
Don't worry if you feel uncomfortable with change
If adopting new technologies like those available in MyFarm feels alien and somewhat challenging, don't worry. There is no requirement for you to be an expert – Frontier has a dedicated support team who is more than happy to walk you through everything so that you can make the most of MyFarm to suit your business. Importantly, the team can help to set up processes that make the journey easier for you, based on your own requirements. We know that there is no one-size-fits-all approach.
Think creatively
This probably sounds more complex than it is; essentially it's thinking about making the technology work for you. For example, you may not want to receive recurring grain price alerts but recognise that the information could be useful sometimes. In instances like that, you could ask that another member of your team receive them so they can keep you in the know when necessary. That way you can still call your farm trader to discuss marketing options as and when you feel the need to.
Don't give up
We're back at that all important part – sticking with it. There will of course be lots of challenges along the way but the move to more digital services is not one you need to take alone or all at once for that matter. We know that change is inevitable but at Frontier, we want our MyFarm platform to fit with you and your business model which is why we offer additional support through:
MyFarm

'tips and tricks' emails every fortnight

Postal statements, invoices or communications

Phone calls from any of your Frontier, SOYL or Kings contacts

A range of events throughout winter, spring and summer

.
Given the era of change we're all experiencing; using more digital technology on farm doesn't have to be another broken resolution. If you'd like to know more about our MyFarm platform or any of the applications within it, please get in contact with our support team by email or by calling 03330 141141.
---
Alongside its divisions, SOYL and Kings, Frontier is hosting a series of 17 winter training events. Open to all farmers interested in learning more about the use of digital technology to improve crop production performance, the events will include valuable insight into MyFarm and its role as a complete farm management platform.

You can find your local event and book your place by visiting our website.