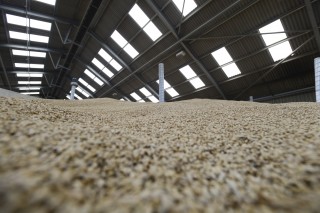 Selling via pools helps to take away some of the risk associated with trading in an open market. They can form a key part of your grain marketing strategy and are a sensible option at a time when so many factors are impacting prices.
Committing to a grain pool, however, requires some considerable thought. Before you enter into a contract with a merchant, it's worth asking yourself these important questions:
Have they delivered consistent results over a long period of time?
Can they connect with the vastly changing consumer markets in 2018-19?
Are you confident in their long-term stability?


As autumn drilling nears completion in the UK, attention should now be turning (if it hasn't already) to available end markets for your growing crop. Of course, with an air of uncertainty now on the horizon, there are a lot of factors to consider.
A higher degree of volatility (the increase in price movements on a daily basis) has returned to UK grain markets in 2018-19, primarily caused by:
Fundamental global and domestic grain production challenges
The macroeconomic factors of Brexit and the sterling exchange rate
Changes in consumer demand.

The chart below highlights the price range for harvest 2018 and shows the feed wheat price for harvest movement from November 2017 - September 2018. During that period, the market moved over £50/t.

​Pool marketing at Frontier
Our dedicated trading team monitor global markets daily on behalf of our customers. This expert analysis enables us to deliver positive results for both farmers and consumers alike.
Consistent results
Across our 15-year operating period, we're very proud to have achieved solid results for our customers time and time again. This applies to all combinable crops too, not just wheat, barley and rapeseed. We pride ourselves on delivering excellent service and results, using our commercial edge for the benefit of our pool customers.
Connections to consumer markets
Frontier offers access to the largest network of UK consumers. While domestic demand for wheat has fallen considerably following recent closures of the bioethanol plants, Vivergo and Ensus, Frontier is able to maintain a strong demand for UK wheat across all geographies.
In addition, Frontier also has the ability to move grain at key times and on a national scale. Our extensive store network means that we can support growers and consumers during the four key movement periods (harvest, Oct-Dec, Jan-Mar and Apr-Jun).
Expertise
As a national pool, we understand the importance of having a good analysis of the fundamentals of relevant global grain markets, as well as awareness and understanding of non-grain influences and wider macroeconomic issues.
Financial security
It's crucial that you place your crop commitments with a financially-solid marketing partner, for both business security and your own peace of mind.
As mentioned, Frontier's stability is backed up by positive company results spanning 15 years. Profits have been re-invested back into UK agriculture; specifically grain storage and improvements to our business systems to ensure we benefit both grower and consumer.
Investment into Woldgrain, Camgrain, Aberdeen Grain and our storage programme in the past five years means that we have the capability and infrastructure in place to move grain in a timely fashion throughout the year. This adds value to our farmers and also ensures that facilities are food safe to meet the requirements of our consumer customers.
In addition, members of our pool also have the option to draw money against their pool commitments in order to meet cash-flow requirements.
Support with your marketing plan
In the vastly changing grain marketing landscape, making the right decision for your business is becoming an increasing challenge.
The Frontier pool can help mitigate some of the risk, giving you security in a fluctuating market and leaving you feeling confident that your grain is in secure hands. We will work with you to devise a marketing plan that suits your specific situation and, with our network of expert traders and solid results; provide answers to those all important questions mentioned above.