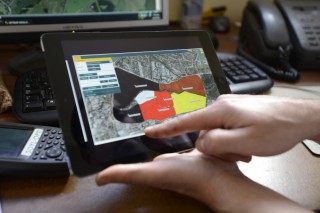 Happy New Year from the SOYL team; I can't quite believe that 12 months have passed since I last wrote a blog reviewing the year but here we are.
Our mission to help growers Make Every Hectare Count stepped up its pace in 2018 – SOYL advised, helped and supported more farmer customers than ever before.
A year punctuated by events
2018 started with the usual flurry of activity. First, the AICC conference; an event for over 100 crop consultants which SOYL has supported for over 15 years and which is a chance to share new ideas. This was closely followed by LAMMA and the last few of our Winter 17/18 Workshops for customers. We held 19 of these events with over 1,000 farmers attending.
In June we attended Groundswell to demonstrate our soil health and fertility packages alongside our colleagues from Kings. Groundswell is growing into a really useful event for the industry.

We were at the 'Swedish Cereals' summer event supporting our partner business SOYL Sweden. They always make a really good job of their stand. Along with spreading the word on precision to Swedish farmers I was interested to meet some farmers from Scotland at the event too!
In the autumn we exhibited at CropTec and at Tillage Live, which this year was in Scotland. In advance of Tillage Live we carried out a conductivity scan of the event field. On show day itself we were part of the knowledge trail, taking groups of farmers to different soil zones to compare and discuss the production characteristics of each.
SOYL winter events get more personal
In the autumn we launched a series of winter 18/19 customer training events – MySOYL Live. We are running 35 of these events over the winter with a maximum of 20 customers at each. This is a change from our traditional Winter Workshop programme which involved a smaller number of events but with typically 70 to 100 farmers in attendance. The change was made because our customers asked for more detailed guidance on the tools available to them. We listened and so far the events have been a great success.
Innovation and investment

Spring 2018 saw us begin trials with aerial imagery provider, Spectrum Aviation. Spectrum provides high resolution imagery, collecting vast amounts of data in a single flight. Data gathered in this way is being trialled by our advisors and Frontier agronomists to guide agronomy decisions. Cutting edge stuff!
In July we rolled out a new software platform for our soil sampling technicians. Developed for the iPad, the new app known as Kora transforms in field data collection using wireless technology. Samplers now move across the field recording samples in a similar way to that in which farmers record applications with the iSOYL app. This development improves the efficiency with which our technicians can collect samples from customers' farms.
Looking to the year ahead
If ever there was a time when the UK needed its industries to focus on productivity it is now. With the uncertainty of Brexit still looming the country really needs its farming industry to Make Every Hectare Count. Payments to farmers will not be the same in the future and every indication points to them being linked to acts of 'public good' and environmental care.
The majority of farm income is likely to be linked to efficient crop production – maximum yield from careful use of inputs. This is where I believe SOYL can make a meaningful difference in the future, just as we have for the last 26 years.
Here's to a successful 2019 for all involved in agriculture.