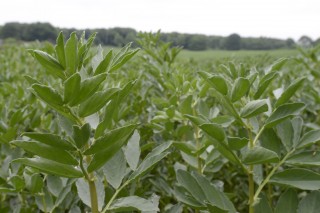 Almost the entire country has fallen foul to the wet weather this spring. Apart from a very short break just before Easter, the severity of the recent rainfall has precluded almost any seedbed preparation and sowing of crops.

In fact, it is now the middle of April and many growers are asking, "It is too late to sow spring beans?"
Whilst we generally view optimal sowing dates for this crop as late February to mid-April, beans sown up until early-May will still produce an acceptable crop provided they receive good growing conditions from sowing onwards. Once we get into a May drill-date only then may the expected harvest-date be compromised – but not significantly.
For example, in the wet spring of 2013 when drilling dates were considerably affected by the continued wet weather, we were still able to achieve very acceptable yields. During that time, we averaged 3.4t/ha compared to a longer-term average of just 4.0t/ha.
Better weather at last
This week we are finally in a spell of warm, settled weather with temperatures forecast at 17 – 20oC with some strong breezes. It is advisable to wait for the soil to dry and warm up a little, rather than force a seed bed in less-than-optimal conditions.
Most importantly, do not over-compensate by thinking that an increased sowing rate will help the crop – the results can be quite the opposite. Thick, fast-growing crops will only grow very tall and cut out the light to the lower part of the canopy, reducing yield due to lower pod setting.
On a positive note, the cold weather we experienced from our two brushes with the 'Beasts from the East' will certainly have hit the Bruchid beetle population. Hopefully that will have reduced the scale of the problem later in the season.
Pea crops

When we look at combining pea crops to be sown, there will have been no effect on these yet – many pea crops are only sown in the second half of April each year anyway. Again, it is better to wait for the right soil conditions so you can create a fine seedbed before sowing into a soil that isn't ready. This will encourage the seeds to germinate and grow away rapidly.
Remember: It is very important to get a pre-emergence herbicide applied to the finished seedbed in either crop because the range of options for weed control is very limited. Talk to your Frontier agronomist for the best advice on the options for your crop.