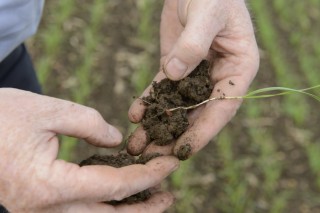 This article was first published in the June edition of 3 Counties Farmer
I've been told on many occasions the best time to plant a tree was 40 years ago and the next best time is... tomorrow! Thinking further than a day ahead can seem quite difficult when you are in the thick of a busy growing season, hampered by cold and wet conditions while attempting to establish and maintain crops. Laying foundations for the next season is a skill that sets some farmers apart from others. Of course, some spontaneous and knee jerk decisions have to be made as the year progresses but planning is key to most successful businesses.
Rotations, variety choices, fertiliser purchases and an evolving labour force are just a few of the topical points of discussion on farm at the moment. But what about the most important thing that changes as each season comes and goes? The biggest asset that any grower has, whether rented or owned, is the soil. It may change in condition during the year but fundamentally, soil types stay the same. How you manage your soils defines who you are as a grower. Its structure, nutrient holding capability and its potential to present a high yielding crop to the producer can all be altered agronomically, for better or worse.Nobody sets out to ruin the soils that they have and some seasons lend themselves to a greater degree of damage.
Root crops, forage maize and late-harvested crops are an economic reality in the Three Counties. There will be times when you unfortunately encounter a wet harvest, or indeed a wet spring, when cultivations and harvest damage the soil structure. In this case what can you do to rectify and maintain a good healthy soil? It's a fairly big jigsaw but not one that has to be complicated. Each component to the jigsaw brings its own benefits.
I'd start with the good, old fashioned soil sample and while I was doing that I'd also take an organic matter reading. These are two of the basics. Get the spade out and have a dig. Seek out any compacted layers of soil. Smell the soil. Take a spade full from the field and compare it to one dug fresh from under a hedge. There will be a difference in the fact that the soil from the hedge will smell sweeter due to having higher organic matter content, more bug life and an increased worm count. Go back into the field and count the worms in the spade spit. You should count more than 15 per spit. This number will lead to crop benefit and indicates a soil in good shape.
Consider a soil health survey. We offer a service called Soil Life which gives an instant snapshot of your soil vitality and is a great starting point if you think you have a field underperforming. Even where soils are struggling, there is action that can be taken. Some growers who embarked on the cover crop journey a few years ago are now seeing benefits. With cover and catch crops also delivering as an EFA option, this would seem a natural fit on farm.
If you haven't had a good look at your soil lately, now is the best time to do so. Now, go plant that tree!