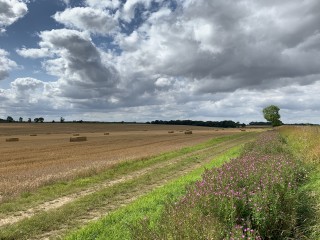 It's well understood that the turn of a new year often brings with it some updated farm policy. Evolving requirements, subsidy scheme adaptations and legislation are certainly nothing new.
This is the case again for 2022, only the changes ahead are some of the biggest our industry has seen. It's no understatement when we say there's a been a lot for farmers (and advisors) to digest in recent months and there are still some new policy elements to be clarified.
Back in December we had the most recent announcement about the Sustainable Farming Incentive (SFI) – you can find more in this earlier blog which outlines what was set out then.
This month, however, the Oxford Farming Conference saw George Eustice make a further announcement, confirming that the Environmental Land Management scheme (ELMs) now comprises three separate schemes – the SFI which we're now all quite familiar with, but also the Local Nature Recovery scheme and the Landscape Recovery scheme.
The Landscape Recovery scheme - what is its aim?
Confirmation of this particular scheme certainly grabbed the headlines, with some stories alluding to farmers being paid for "post-Brexit 'rewilding' land changes" due to the pilot project target of creating 10,000 hectares of restored wildlife habitat. This would help to sequester carbon and restore England's rivers and streams but an important aspect that wasn't covered in many articles is that these long-term schemes are likely to focus on targets such as heath, moorland or wetland restoration; long term projects with a 20-year commitment. This element of ELMs will have significant wildlife and environmental impacts but talk of 'rewilding all of our farmed landscape' is slightly misleading and not exactly what was announced.

The Local Nature Recovery scheme – what are the expectations?
The Local Nature Recovery Scheme is the one that will impact most farm businesses. Although it won't be without challenges, farms will be asked to work together to deliver outcomes that are locally relevant on a landscape scale. This is already happening across 100 or more cluster farm and facilitation fund initiatives.
The scheme will build on Countryside Stewardship and will, in most circumstances, be underpinned by an SFI agreement. The funding will not replace the Basic Payment Scheme (BPS). However, if the schemes are well thought through and provide options that can help improve soil health, increase populations of beneficial insects and pollinators, as well as help control difficult weed populations, it could be positive for most farms.
It's worth noting that the aim of the update according to Defra is to allow farmers "to access the Sustainable Farming Incentive and Local Nature Recovery schemes through a single, simple service that shows all the available options in one place."
The 'outcomes' of all three schemes
Another interesting announcement also came out this month. This time it came in the form of a document which sets out the intended outcomes from all three of the new schemes. You can find the full details on the Government's website but the headline points are:
bringing soil under sustainable management
reducing agricultural emissions
woodland creation
halting the decline in species
reducing the main agricultural pollutants that enter watercourses
restoration of rivers, lakes and other freshwater habitats.
There is no direct reference to food production but that is integral to the whole process, and not many would disagree with these aims.
Countryside Stewardship option payments review
Probably the most important and immediate part of George Eustice's announcement was the results from the review of current the Countryside Stewardship option payments. This was predominantly good news and most option payments have increased by around 10%:
| | | | | |
| --- | --- | --- | --- | --- |
| ​Option code | ​Option title | ​Old rate (£) | ​New rate (£) | ​% increase / decrease |
| ​AB1 | ​Nectar flower mix | ​511 | ​579 | ​13.3 |
| ​AB12 | ​Supplementary winter feeding for farmland birds | ​632 | ​657 | ​4.0 |
| AB15 | ​Two year sown legume fallow | ​522 | ​569 | ​9.0 |
| ​AB16 | ​Autumn sown bumblebird mix | ​550 | ​608 | ​10.5 |
| ​AB8 | ​Flower-rich margins and plots | ​539 | ​628 | ​16.5 |
| ​GS2 | ​Permanent grassland with very low inputs | ​95 | ​132 | ​38.9 |
| ​GS4 | ​Legume and herb-rich swards | ​309 | ​358 | ​15.9 |
While there have been a lot of developments recently, it's important to state that we don't yet have all the answers about the schemes while they continue to develop. Of course, this is always disappointing when we work in an industry that has to plan for the medium to long-term and in the face of ongoing challenges. However, as things progress and more requirements come to the fore, our team will be here to help growers navigate them.
In the short to medium term, we do know that the recent changes make Countryside Stewardship more important than ever. If you're not in a scheme already, perhaps now is the time to look at it as a viable and rewarding option for your farm business.
Work smart: Incorporate the schemes and enhance commercial crop production simultaneously
As we said in our last blog about SFI and Countryside Stewardship, there are easily attainable benefits from these schemes such as areas like soil health and Integrated Pest Management (IPM), which can enhance your crop production without hindering it. It's a phrase we ended on before but it's one that's important to reiterate: When you look at these schemes, try not to think of how to fit them around crop production. Think about how they can enhance it and create a more sustainable crop production system.
We should try to remove the competition between environmental and crop production activities as we know they positively interact with and benefit one another. This is exactly what we are looking to support growers with through our sustainable crop production model.
If you're looking for guidance and support to choose the right option for your business or need help with how to make your future environmental schemes work as part of your farm's sustainability objectives, please speak to your local Kings advisor, Frontier contact or get in touch.
---