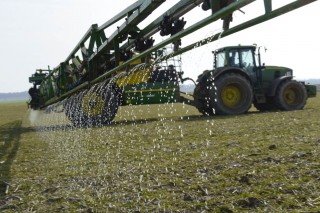 ​The recent dry weather has been incredibly welcome and has finally allowed drills, sprayers and fertiliser spreaders to roll across the country. But, dare I ask, how long will it be before we're looking for some fresh rain?!
There is clearly a massive variation in growth stage and condition of the autumn crops across the country, but the more forward crops have started to get hold of applied nitrogen and actually look quite good. At the other extreme, some of the most backward crops are not that far ahead of the spring cereals that are now going in the ground. As long as reasonable seedbeds can be achieved and drilling doesn't get delayed, the potential for these spring crops should be good.
Although very welcome, these dry conditions do pose a real challenge for urea fertiliser users because it can increase nitrogen losses. Some of the nitrogen applied as urea can escape as ammonia gas, a process known as volatilisation, which reduces the nitrogen in the soil available for crop uptake. This risk is increased further where there is little or no crop cover because the surface of bare soil dries out far more than areas where there is a dense canopy.
While applications could be delayed until there is significant rainfall, that isn't ideal given crops' current need for nitrogen and the significant pressure on workload. Delays would also push applications to periods when soils will be warmer, which further increases the risk of volatilisation.
Urease inhibitors - reducing risk of losses
Solid urea users have been able to significantly reduce the risk of losses by switching to ammonium nitrate fertiliser, or a urea containing a 'urease inhibitor'. This inhibitor controls the conversion of urea to ammonium, thus reducing the risk of volatilisation and loss of nitrogen.
For liquid users, this ability to reduce the risk of volatilisation loss has not been available until recently, even though every soil-applied liquid fertiliser grade contains a proportion of urea. Clearly, liquid fertiliser poses a lower risk as not all of the nitrogen is urea; the maximum proportion is 50% for straight liquid nitrogen, which then reduces as the sulphur content increases. However, with all grades, a significant amount of urea nitrogen is still in danger of being lost.
Now though, there is a way to reduce this risk by using an additive called Limus Clear from BASF, available exclusively from Frontier.
Extensive trials carried out by BASF have demonstrated Limus Clear can reduce ammonia emissions from the urea component by up to 98%, making more nitrogen available to improve crop yields, quality and the overall nitrogen use efficiency (NUE). NUE is always important, but particularly this year with the very high over-winter losses of nitrogen leaving very little in the soil. This means we'll be more reliant on fertiliser nitrogen than normal to feed our crops. Limus Clear contains two inhibitors (NBPT and NPPT) for improved performance, and is fully compatible with all liquid fertilisers, both straight N and NS grades.
To use, simply mix the correct rate of Limus Clear (specific for each liquid grade) in with the liquid fertiliser during sprayer-filling when there is a perceived risk of volatilisation losses.I see this very much as a risk management tool so, when risks are low, i.e. soils are moist and rainfall is shortly expected, you wouldn't include it. However, if soils are dry, no rainfall is forecast, the pH is high, they are getting warmer and there is little or no canopy cover, then you would definitely use it.
Trials demonstrate financial benefits
In our own replicated trials over the last three years, we've seen yield benefits of between 0.2-0.3t/ha in a number of different crops by including Limus Clear. Last year, in conjunction with BASF and ADAS, we also had three on-farm tramline trials. These three growers added Limus Clear to their final two liquid fertiliser applications in specific tramlines, and the ADAS analysis of the combine yield data below shows a clear yield and economic benefit to using the product.
Clearly it is difficult to know exactly the level of risk, especially with the inherent unreliability of forecasting rain, but thanks to a very low use rate – usually below 0.2lts/ha – the cost of including Limus Clear in an application is only around £2 - £4/ha. The exact use rate is linked to the amount of urea applied, so it changes with the grade of liquid fertiliser and nitrogen application rate.
Given the extreme weather we've experienced this winter who knows what will be in store over the coming weeks but, if these dry conditions do continue as temperatures increase, you now have a very flexible, efficient and low-cost method to manage the risk of any volatilisation losses from your liquid fertiliser applications – Limus Clear.
For more information about Limus Clear and advice on how it might work for your farm, speak to your Frontier contact or get in touch with us here.