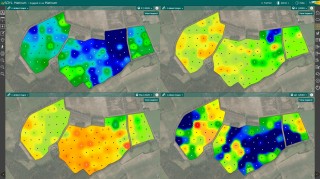 Over the last two years the Applications Team has expanded from a team of four to a team of eight, as we continue to create recommendations and variable rate files for more hectares both here and internationally.
Aside from a few team members that work remotely, we are predominantly based at our Newbury headquarters in Berkshire. Together, we are responsible for making farming application maps for fertiliser, lime and seed for SOYL clients all over the world.
This blog takes a look at what we deal with as a team on a day-to-day basis across a 12-month period.
Phosphorus, potassium, magnesium and lime
In the UK alone, we create fertiliser recommendations for over 1.1 million hectares every year. Such a breadth of work is always on-going but it is just one aspect of the Applications Team's role.
Using soil sampling results and the Nutrient Management Guide RB209*, combined with our own soil science and nutrition models, we work out the nutrient required by the growing crop to reach optimum yield. Depending on the fertiliser chosen by the customer, we then provide a recommendation of tonnages and variable rate GPS files.

Lime recommendations are very much seasonal, with peaks in spring and in the autumn between the periods the crop is harvested and the new crop is planted. We use the pH analysis from soil sampling to work out the required lime tonnage to bring each area up to the desired target.

We have great working relationships with over 100 lime contractors that we supply lime applications maps to, as well up-to-date farm maps where required.
Variable rate nitrogen
Nitrogen is a key nutrient when it comes to yield and quality and during the spring months, we work to ensure our customers get their nitrogen in time and when the crop requires it.
With the use of satellite imagery, we are able to manage crop canopy growth by applying nitrogen fertiliser variably. As a team, we offer support for customers creating their own plans at home using our online platform, provide a rapid-response service and make nitrogen maps and variable rate files for clients here in the SOYL office.
International work
In the last two years, SOYL has expanded into the international market with partners across the world. Such relationships range from partners selling our mobile apps to others offering the full sampling and recommendations service.

In those countries where our partners offer the full service, we will process the sampling data and create the fertiliser recommendations. While in the UK we base our recommendations on the RB209 guide, other countries each have their own guidelines and legislation we must adhere to when defining nutrient requirements. Working in such a varied way gives us the opportunity to expand our knowledge much wider than the usual UK processes.
No two hectares are the same
Across all elements of our work, every farm system is different in some way or another which makes every day different too. With the support of our 21 UK Area Managers and five international partners, we can ensure that every recommendation produced and delivered on farm has been tailored to meet the farmer's specific requirements.
Working in the applications team involves lots of farmer contact, a wide range of development opportunities and a chance to work at the leading precision farming company.We regularly recruit into this rapidly expanding team, so if you are interested please email This email address is being protected from spambots. You need JavaScript enabled to view it.
For other career opportunities at SOYL please visit - www.soyl.com/about/careers
*Read this SOYL blog post for more information on the RB209
Simon Parrington
SOYL Commercial Director

For specific advice for your business related to this blog or any other aspect of crop production get in touch with SOYL.