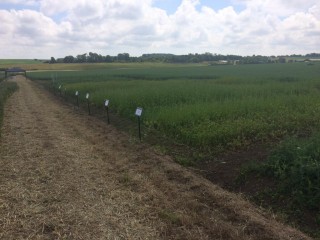 With the short break over Christmas now a distant memory but spring right around the corner, it's great to be back to day-to-day farm trading in the South East.
I'm part of the team attached to the #3DThinking Wingham site which is really important to us as a tool for helping growers choose their varieties for the following crop year.
On that subject, things have remained relatively flat following on from late 2017.
2017 vs. 2018
​Where old crop is concerned, a lot of water is already under the bridge and the market direction for the remainder of the season is now becoming somewhat clearer. Despite the recent DEFRA report releasing the final 2017 crop production numbers (which was 326,000 tonnes lower than previously thought) crop 2017 is still bigger than crop 2016. Uncertainty remains regarding bio-ethanol demand and wheat-wise we are yet to be export-competitive. The writing could well be on the wall for 2017 crop feed wheat.
Fast forward to crop 2018 and plantings have gone well across the South of the country with crops looking healthy. It seems the building blocks are in place for what we hope to be a successful harvest with good yields. Time is on our side when looking at new crop, although there are still many factors to play out and the impact of these (if they do appear) is obviously unknown. Will we see a weather issue somewhere in the world? What will happen to the strength of the pound? What we do know however, is that crops are looking good in the ground. If you haven't already made a plan for some of the prospective grain then now is a good time to think about it.
Marketing pools
With so much uncertainty in the new crop forward markets, a very sensible and low-risk way to get into the market is to use a marketing pool. This year, our pools opened earlier than usual to take advantage of the improved new crop prices we saw in the early autumn. Since then forward prices have gradually drifted and, although still at solid levels, are not quite where they were. Committing to a marketing pool informs you as to whether grain is moving in a certain period, that you will be paid on a guaranteed date and that you are still in the market if and when prices change.
In addition, the quality of grain you produce is matched to the right home meaning that they are non-defaultable on quality. The thought ofsomeone else marketing a proportion of your grain can, to some, seem quite scary but having an expert with a completely different view of the market to yourself is a sensible risk management decision for your business.
A key point to consider when thinking of using a grain marketing pool is the number of selling decisions you make when marketing your break or smaller tonnage crops. Wheat markets are closely followed but other markets are often not. The pool supports you by making more marketing decisions than you possibly could on the tonnage you may have if having to sell in lorryloads. Running a sustainable business requires sensible management decisions, risk management and reduced exposure to volatile markets. Using a marketing pool does this for you.
While our spring crop pools close 31st March, our winter crop pools close this week on 2nd February so please speak to your farm trader to secure your commitment/tonnage. If ever there was year to be involved, this is it. With a turbulent political situation on the horizon, removing some risk from your marketing strategy is the right thing to do.
At the moment, our #3DThinking Wingham demonstration site is looking really well and will serve as a key aid for our local Frontier and GH Grain team for advising growers on the best varieties to take forward.
To help growers make the best decision for their farm, we hold open days which give you the opportunity to see our #3DThinking in action. Our main open day is taking place Wednesday 20th June and is a great chance to see the results of our demonstrations so you can make an informed decision about any varieties you wish to take into 2019.
If you're interested in attending any of our open days, be sure to check our events page as details are added on a regular basis. Alternatively, you can also speak to your farm trader or agronomist for more information, including advice about crop marketing tools and grain selling strategies in general.
​Ollie Wilson​
Farm Trader
For specific advice for your business related to this blog or any other aspect of crop production get in touch with Frontier.