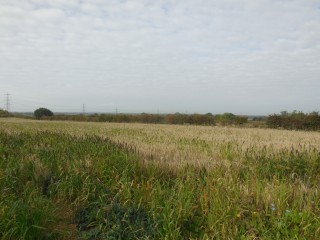 Following Michael Gove's recent speech at the Oxford Farming Conference in which he began to outline the future direction of agricultural policy in England, it is becoming increasingly clear that soil health, water quality and biodiversity are very high up on the agenda.
These issues could be addressed with the 'stick' of regulation or with the 'carrot' of agri-environment. The 'carrot' is already with us in the form of Countryside Stewardship and now is a really good time to engage with the scheme, using the options available to improve water quality, address soil health issues and increase biodiversity.
Water
If your farm lies in a high priority catchment and is a high priority holding for Catchment Sensitive Farming Officers, there are a multitude of water capital grants that could be accessed as listed in the table below.
If you are unsure about whether or not you are in such an area, visit the Magic Maps website and type your postcode into the search box shown in the top left of the web page.
Once on the site and below the postcode field, you will see a 'Table of Contents' listing different layers. If you tick the box against 'Countryside Stewardship Targeting & Scoring Layers' and then tick the box for 'Water', anything that shows up in red on the map is a high priority catchment.
Soil
There are also options that can benefit soil health. Cover crops are gaining in popularity and with the right advice, they can deliver benefits ranging from soil structure and soil health to nitrogen capture, increased organic matter levels and yield improvements. As well as this, there's also the added benefit of a respectable £114 per hectare grant.
Legume and herb-rich swards are another way of building soil fertility and structure, while also achieving really good grazing and providing a return of £309 per hectare.
Biodiversity
For biodiversity there are a wealth of options available. In my opinion, it is best to keep things simple and use the options which deliver the most for biodiversity but are financially rewarding too.
Wild Bird Seed Mixes at £640 per hectare, Nectar Mixes at £511 per hectare, Wild Flower Margins at £539 per hectare and Supplementary Winter Bird Feeding at £632 per tonne are great options for increasing the natural capital on your farm.
Flower-rich options sown in visible locations such as those adjacent to footpaths and roads provide huge benefits to ecosystem services and highlight the stewardship practices involved in farming to benefit the wider landscape. You will get a positive score from Natural England too which further increases your chances of being accepted into the scheme.
Preparing for change
In summary, getting involved with Countryside Stewardship schemes now is a wise decision to make when it comes to forward planning. Your efforts will see your farm more closely aligning to the policies we are likely to see coming out of DEFRA, thus hopefully proving the 'carrot' to be mightier than the 'stick'.
Neil Harris​
Technical advisor

For specific advice for your business related to this blog or any other aspect of crop production get in touch with Kings.