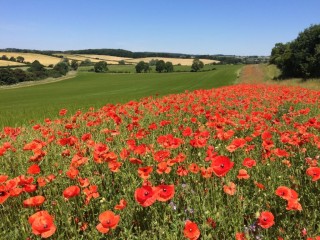 As we enter a period of change in agriculture, don't let niggles stop you acting to seize this huge opportunity.
Recently, my wife and I had the opportunity to go out for a meal unencumbered by children. As my mind works in rather convoluted ways, our time at the restaurant had me thinking about the parallels between what we experienced and, oddly, that of many growers when it comes to Countryside Stewardship.
The meal was fantastic. In fact, I couldn't fault it; the dishes were exceptional and the restaurant really delivered on its promise of fine food. It was this which got me thinking about Countryside Stewardship and the way in which it delivers so well for biodiversity and farm income alike, as well as the opportunities it brings in terms of protecting and enhancing our farmed environment.
Sadly though, despite our fantastic food, the evening was slightly marred by the service. It's unfortunate that in situations like this it can be the little details that we focus on afterwards, rather than the overall great experience. This had me drawing another parallel with Countryside Stewardship and the well-documented delays some growers have experienced with applications.
Importantly though, when something is as good as our meal was, you don't let the little things put you off and the same applies for Countryside Stewardship. It really is a brilliant, worthwhile scheme which brings about a host of opportunities for your land and farm business.
​Positive changes ahead
With Defra now working on a new Environmental Land Management scheme, or ELMs for short (and let's hope it doesn't disappear from the countryside like the tree), it's likely that improvements to the IT system won't be a priority just yet. However, it is a different story for scheme administration.
In previous years, some growers weren't always informed about whether or not their stewardship application had been successful until some time after the start date of their agreement. Unsurprisingly, this would then result in problems getting some options planted in the scheme's first year.
However, at the end of last year, the Rural Payments Agency (RPA) which now administers the scheme reassured many of the growers still waiting that they would be informed about the status of their application before the year end. Thankfully, several of the applications I had drawn up for growers were approved in this time.
This year, applications are being approved much earlier which means that new agreement holders can make time to plan how and when they are going to implement their options. This is especially true for those who have chosen the arable options.
​Best practice for implementing your stewardship options
These need to be in the ground by 15th June so cannot be planted post harvest 2019. If these plots are not going to move around the farm you should consider these mixes alongside an agronomy plan to help beat the weeds.
Nectar Mixes, Herb Rich Leys and Wildflower Plots
These can be sown in the spring or autumn so, unlike the above, can be planted post harvest. These options can last the length of the scheme so it is well worth investing time to get successful establishment. Stale seed beds are required, with frequent topping in the first year to eliminate annual weeds.
Supplementary winter feeding
If this forms part of your new agreement, this option will start on day one of your scheme and getting the right advice in a timely fashion will stand you in good stead. Kings' technical advisers are on hand to help and can offer expertise to guide you through the requirements of the scheme, the establishment and the ongoing management of the options you have chosen. You can read more about the ways we can support you with supplementary feeding
here
.
Results-based funding
Defra's ELM scheme – which could be rolled out in 2022 – is tipped to focus less on prescriptions and geared more towards outcomes. In other words, it links into the concept of 'Payment by Results' or, as it is more formally known, a Results-Based Agri-environment Payment Scheme (RBAPS).
This new way of rewarding farmers is currently being trialled in several areas of England to see how effective it is likely to be. Essentially, it means that growers can stipulate the type of stewardship options they wish to carry out and they are paid based on how high a standard they deliver those options. You can read more about this in a blog we published towards the end of last year.
​Countryside Stewardship can help you get ahead
With some significant changes afoot, Countryside Stewardship is the perfect training opportunity. Securing your involvement now will allow you to gain experience and perfect the delivery of these options so that you are well placed to benefit from the new payment regime in the future.
Gaining practical experience now could well result in you being rewarded with a more substantial amount of agri-environment funding in the years to come. This could be a crucial opportunity for your farm business, particularly as the Single Payment income will begin to decrease between 2022 and 2027.
We can certainly learn from past mistakes and with change comes the opportunity to adapt and improve. This is the very much the case for agri-environment schemes and there has never been a better time to make the most of the opportunities they present than now.