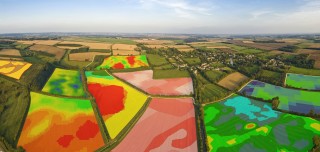 The benefits of using satellite imagery go way beyond the yield improvements that have been seen from variable rate nitrogen applications.
Some of these advantages will be picked up in more detail by other blogs but to start, I thought it would be useful to share other opportunities for the use of satellite imagery and the added value that can be derived in doing so.
Satellite imagery and canopy management in oilseed rape
Using imagery to identify areas that will benefit from a higher rate of plant growth regulator (PGR) has been particularly successful on oilseed rape, with variably applied PGRs helping to mitigate lodging in high-risk areas, improve light capture and encourage more consistent crop development. SOYL field trials have also shown some potential in cereal crops when using this method too and we are conducting ongoing research to help evaluate future possibilities in this area.
The benefits of using satellite imagery to determine PGR applications in oilseed rape include the ability to see yield responses to higher rates in forward parts of the field and being able to make cost effective decisions by avoiding applications on low biomass areas. This also helps to eliminate the risk of losing yield.
​Using satellite imagery to achieve premiums
Matching nitrogen inputs to biomass means that there is a benefit to both protein and quality.In both field trials and large scale surveys, growers who used satellite imagery for crop management over those who did not showed a clear improvement in protein levels above the bread making threshold, helping them to achieve the quality they required.
The graph below highlights the differences:
Targeted sampling and field walking
When using satellite imagery to monitor crop progress, areas of low growth can be identified across the growing season. Some areas may be consistent throughout the year and should therefore be targeted for sampling to identify any acid spots or low nutrient levels that may be impacting crop growth. For areas of low growth that appear in the data quite unexpectedly, these should be investigated further during field walks by the farm manager or agronomist to ascertain the potential need for pest or disease management. With the satellite imagery offering access to such detailed and accurate data, it can be of great value to the efficiency of crop walking and problem scouting.
Monitoring on-farm trials
On farm trials are an increasingly important aspect of our research and satellite imagery can be used in quite an effective yet simple manner to help observe them. Areas of fields, or even half fields, can be identified, monitored and treated differently in order to compare results. For example, seed rates, input rates, different products or cultivation methods may all be tested and their impact accurately examined. Any differences in growth will be recognised and these can then be quantified in MySOYL to assess the benefit of one treatment over another.
​Environmental management and planning
With a growing focus on the farmed environment and the recent Agriculture Bill making clear its expectations for the next ten years, the likelihood is that faming businesses will be expected to meet a certain environmental criteria going forward. As part of this there is an opportunity to utilise the satellite imagery data available to you, as it can help to pin-point key areas for stewardship using an integrated, whole farm approach.
For example, by referring to the SOYL imagery archive you can identify consistent, poor-performing areas of land. Further investigations using the Frontier SoilLife service can be carried out to highlight any underlying uses and, in instances where any problems cannot be resolved, the areas can be measured in MySOYL before being targeted for suitable environmental schemes that work alongside your farm.
Improving nitrogen use efficiency
Satellite imagery and variable applications can play a significant role in improving nitrogen use efficiency. By creating application maps using the data, the efficiency with which inputs are used (being the increase in output per additional unit of input) can be maximised and a number of benefits accrued. Most notably, the residual nitrogen from fertiliser applications will be minimised, meaning that N losses and leaching to groundwater will be reduced. N wastage reduction will also mean more value from every pound spent on fertiliser.
​Variable seed rate planning
Should your satellite imagery show areas of low biomass, particularly early in the establishment season, these can be targeted with higher seed rates. Conversely, parts of the field that have shown very high biomass on previous year's satellite imagery, particularly if they have a history of lodging, can be targeted for a reduction in seed rates. Typically, in these circumstances, satellite imagery is used in conjunction with soil type data and conductivity maps to further improve variable rate seed maps.
Grassland management
Satellite images can be used to monitor crop growth through the season to plan pasture management and help with the movement of livestock onto and out of the appropriate fields at the correct time. Conversion of the normalised difference vegetation index (NDVI) into dry matter can be used to create a grass feed wedge for the farm.
​Use your satellite imagery data to its full potential
Hopefully I've emphasised that, when using satellite imagery as a farm management tool, you can think beyond just using it for variable rate nitrogen alone. Although this alone will pay for the service, there are plenty of other opportunities to use it which bring added value to several other areas and decisions on your farm.
For more information on any of the above or to speak to a member of the SOYL team about the use of satellite imagery on your farm, please get in touch.