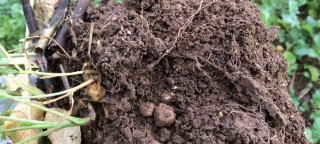 At the time of writing this, the sun's out here in Kent, there's a cloudless sky and the thermometer is touching double digits. Get the spreaders out, it's Saturday afternoon and a rest weekend in the Six Nations.
Hold your horses I urge you, as a glance at the faultless weather forecast proves not so conducive for the coming weeks. A band of heavy rain spreading across the south of the country followed by, and I quote "A HISTORIC FREEZE" caused by so-called 'Sudden Stratospheric Warming' will leave freezing conditions until the start of March. Any early-season discount on fertiliser price you may have achieved can easily be negated by one poorly-timed application, coupled with a spike in groundwater nitrate levels.
Timing couldn't be better for our recently installed weather station at Wrotham in Kent. Eagerly tracking soil temperatures at six inches deep, we saw a rise from 3.3 degrees to 4.9 degrees in 48 hours over the sun-filled weekend. Soil temperatures need to be five degrees and rising for active plant growth and therefore nutrient uptake.
So, "When do we start?" I hear you ask.
There is no easy answer but I am keeping an eye on soil temperatures, allowing the Siberian weather to pass and then re-assessing. By that time, the calendar may well have ticked over into March.
However, nothing changes in the order of priority. Target backward oilseed rape, winter barley and second wheat, followed by the more established oilseed rape and then lastly forward first wheat – particularly where following a nitrogen-fixing crop. Everyone has a slightly different opinion on initial rates but I would argue that timing and conditions play a more important role than the intricacies of +/- 5kgs of nitrogen first time out. There will only be a handful of situations where you are not in the 40kg – 60kg N/ha region for cereals.
Sulphur
It's important to mention this too. Depositions from the atmosphere have been declining steadily for over 20 years and most land will receive less than 4kg per hectare per year from sulphur dioxide emissions. Like nitrate, sulphate in the soil is very leachable, particularly on sandy and chalky types so annual applications have become the norm. Sulphur is likely to be applied in the first and/or second application of nitrogen and should be on by April. Suggested rates vary on a deficiency risk-basis factoring soil texture and rainfall, but typical crop requirements would be in the region of 50kg SO3 for cereals and 80-100kg SO3 for oilseed rape.
I hope my weather predictions haven't caused too many concerns to those spreaders that have already had their first spin of the year. Keep your eyes fixed on the rugby this weekend because, although the forecast is dry and sunny for the England vs. Scotland game, a high of 0 degrees and a low of -3 degrees (in Kent!) next Monday isn't convincing.
​


Edward Sandeman
Trainee Agronomist
For specific advice for your business related to this blog or any other aspect of crop production get in touch with Frontier.