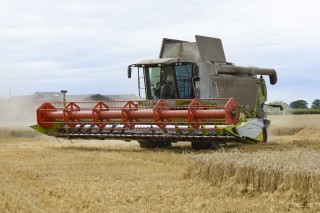 With combines already rolling in some areas, conversations across offices, farms, agricultural shows and pubs are ramping up about the yield potential of this year's crop. Harvest conversations between farmers, traders and others always interest me; watching the usual attempts to outdo each other is always an interesting sport.
But as someone with responsibility for managing a number of large, professional grain stores, I want to make a call for storage to be given the same level of enthusiasm as yield when it comes to harvest conversations.We invest heavily in crops to achieve yield and quality and they are destined for the food chain and other grain consumers with equally exacting standards. Therefore ensuring safe, efficient storage is just as important as yield.
How will you ensure your hard earned harvest yield maintains quality and value in the months ahead?
Harvest triggers the conversations that those of us who work in large scale grain storage must start to have with our trading team and others. Much as a good farm manager begins by looking at safety in the yard and buildings before moving on to storage options, shed space and yield/quality plans – so will we, albeit on a much larger scale!
We continue to out-load grain harvested in summer 2018 and our job as always has been to ensure that grain arriving last summer departs our stores at the same quality. Every year commodities bring a different challenge; wet, high ad-mix, low bushel - last year was dominated by products being too hot.
Once crop arrives at a Frontier store our dedicated team of lab and store staff pick up the baton. Our job is to work together to ensure that product going into a store during August will come out 10 months later and test exactly the same.
Storing grain with confidence
Most farmers have some sort of storage on farm and will have their own methods for managing that. Doing it well takes dedication and commitment.
Here's how we approach the task at scale at Frontier.
Testing
Upon arrival on site, our lab teams carry out an industry-approved method to ensure that a fair and representative sample is taken from the lorry on the weighbridge. This sample is then run through a host of various testing machines depending on what the crop is; these machines take measurements to a high degree of accuracy.
Why is accuracy important?
.To ensure the farmer can maximise the potential value of the crop

To ensure the storekeeper has an accurate picture of the characteristics of product in store.
Our lab teams operate to an extremely high level of technical expertise, carrying out tests using some of the latest near infrared (NIR), oil analysis and fungal analysis equipment on the market, requiring a breadth of knowledge across differing specialities and crop varieties.
Why is this important?
To ensure the customer knows the standard of their spec across all tonnage

End users receive the variety best suited to produce their commodity to the correct spec

.The storekeeper can handle the grain accordingly.
Finally, testing at this stage ensures that custody of the grain is transferred correctly from farmer to professional storekeeper and tractability along the supply chain is maintained. In some cases the farmer will receive notification by text message with details of the spec of the load tipped straight to their phone.
Grain movement and sample result history can also be accessed at any time via the MyAccount section within Frontier's MyFarm farm management platform – which all Frontier farmer customers have free access to.
Storage
Once testing is complete the grain will be handled according to test results (dried, cleaned or tipped direct to store). Prior to harvest we carry out careful preparation of all storage locations, ensuring they are cleaned and sanitised. Once grain reaches the store, the dedicated store team will take over careful monitoring and control of each load tipped, to ensure each commodity is stored to specific customer requirements.
We store product for up to 12 months, ensuring tipped grain is reduced to safe levels quickly, which is done through constant monitoring of temperatures and other properties. Grain can be delivered in excess of 25°C, at these levels mould can build up leading to a reduction in quality parameters such as germination can start to take effect within 48 hours. In such cases, we start a detailed plan of low volume aeration and testing. We test grain in our stores regularly, carrying out detailed sampling and lab testing.
Many large end users of grain request to see test results so they can monitor progress of the grain that they will use in their products, many of which end up on our supermarket shelves. Requirements are increasing and, driven by consumer demand, food manufacturers and others need much more detail about the product they are purchasing and expectations around uniformity and quality grow annually.
Once the correct temperature has been reached on certain grain types we must maintain that temperature to ensure quality is protected; making ongoing monitoring vital.
Throughout the storage period we must be able to demonstrate to any relevant authority that requests it, that we have met all regulations.
Why is all this important?
1.It enables the grower to minimise their risk and exposure to issues developing in the store by giving a dedicated professional storage team control and responsibility
2.It gives confidence to end users that products are consistent and uniform with full tractability back down to individual loads or farms.
The supply chain will always need good storage
Grain consumers' expectations around attention to detail, technical expertise and understanding of the supply chain are rising.Government and authority regulations related to storage continue to grow in complexity. Frontier's core group of dedicated and industry-leading lab and store staff mean that we are always at the front of any developments. Our continued investment in this integral part of the supply chain, meaning growers can be confident that their hard work is rewarded and their precious yield protected.
Fingers crossed for a barn-busting crop this harvest and here's to a season of safe and professional storage following that.We're ready!