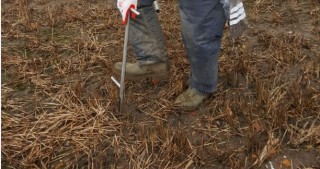 SOYL have undertaken a nitrogen sampling project at a number of sites across the UK. These sites had a range of differing soil types, allowing us to assess over-winter changes in soil nitrogen levels.
A comparison of nitrogen levels in March, compared with those measured in November, has shown a significant over-winter loss, averaging 50kg/ha N or 30-40% of the total nitrogen measured in the soil in November.
The soil nitrogen index on non-organic soils has dropped from an average index of two in November to index zero in March.
Soil type
Samples showed that there is no direct correlation with soil type, resulting in levels dropping by a similar % on both light and heavy soils.High levels seen in November, such as those with organic soils or fields receiving farmyard manure, have seen the greatest reduction in soil nitrogen (e.g. locations 4, 20 and 25 on the above graph).
Soil profile
Within the actual soil profile the remaining nitrogen had also moved. As detailed in the two graphs below, the majority of the soil's nitrogen was in the top 30cm in autumn and potentially more easily available in spring. The second graph shows soil levels in March – most of the nitrogen has moved into either the 30-60cm or 60-90cm part of the profile.
Even where levels are considered to be normally good, it can be assumed that over-winter losses will be high and therefore nitrogen rates should not be reduced. As a guide to potential losses, local rainfall values should be used. If losses are likely to be very large in high rainfall areas rates need to be increased.A low break-even ratio for nitrogen this year means that these higher rates can be justified.
Note also that the soil nitrogen values measured in March give a lower Soil Nitrogen Supply (SNS) index than if using the RB209 field assessment method. If plans were based around reduced rates because of high residual soil nitrogen, these should be reconsidered.
Base N rate
Achieving the right base N rate for the farm or field is vital to reach optimum yields and protein levels. However, it is only an average for the area sampled. Nitrogen supply can vary across a field due to inherent levels in different soil types or in fertiliser use efficiency.
Satellite imagery
Satellite images provided by SOYL show the effect of differences in nitrogen supply or the growing crop in changes to crop biomass. Once the base level is correctly calculated, it can be adjusted up and down in relation to differences in crop growth as it varies from field-to-field and within fields.
Find out more
The next step to improving your crop nitrogen management can be achieved using SOYL's variable rate nitrogen service. This service is simple to use, making it easy for you to achieve the benefits.If you would like to find out more there is an excellent video on our website, click here to watch.
For specific advice for your business related to this blog or any other aspect of precision crop production get in touch with SOYL.