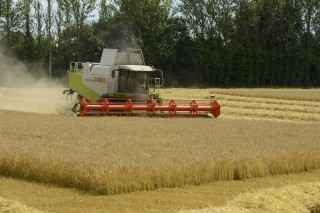 This blog was first featured as an article in the August issue of Three Counties Farmer
Since beginning these monthly columns back in March, I think we've experienced almost every weather condition Mother Nature could throw at us.
At times I've written this while watching the snow settle ever deeper and the winds get bitterly cold. I've witnessed winter roll into spring over a matter days, eventually leading to the extreme temperatures we are now witnessing. It's a reminder not only of how weather patterns change very quickly, but also the extremities our industry must face in order to get the job done.
Volatility is a word often used when talking about commodity prices. Obviously, volatility has an impact throughout agriculture and there are ways and means to embrace this when crop marketing and buying inputs. It becomes more difficult, however, when we see unprecedented weather events like those of recent months, which can potentially cut yield and income.
Producers of primary products such as wheat, oilseeds and barley are at the bottom of the chain when it comes to adding value to their product. Therefore, it comes down to obtaining the best yield possible and marketing that product to achieve the best price available at point of sale. Easy!
I've written previously about the risk of producing any commodity and invariably we don't see the reward associated with that risk. I've always wondered what response I would get standing in front of the Dragons in Dragons' Den. I'd be asking for one million pounds to buy 100 acres of arable land to grow the highest yielding crops available and market them in such a way that we would see the best price available. When asked what return they would get, my reply would be rather muted as I couldn't really tell them.
"What risks are involved?"
"Plenty!" I would say.
"What equipment does this enterprise require?"
"Well, it's difficult to say as, depending on the weather, we may need a plough and power harrow. However, if the gods are looking on us favourably we might get away with a direct drill from the local contractor who's very good. I can get someone to spray and fertilise but we may need a grain dryer at harvest if it rains. A dry summer and we are quids in I would say. All we need to do is keep our fingers crossed."
What would be their response?
"I'm out!"
I can hear them now as I leave with my master plan in tatters.
It's easy to get bogged down with the things we can't control. I like to encourage everyone to give their business the best possible chance. Choose the best livestock you can afford and feed them the best food. Look out for that variety with the best prospective yield and maximise its potential. Create the best soil structure you can and get the most out of every nutritional aspect. Surround yourself with the best advice you can gather. Laying the right platform gives you the chance to be profitable.
Forget the Dragons, we're all in!