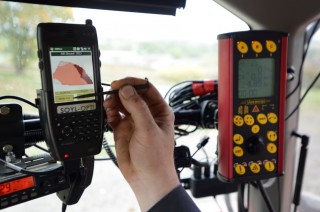 As the head of SOYL's technical and R&D department, one of my responsibilities is to look at the latest developments in precision agriculture research and keep an eye on the 'next big thing' for customers. To find out more about what's happening in the industry and to share more about SOYL's own work, some colleagues and I went to Edinburgh earlier this month for the 11th biennial meeting of the European Conference on Precision Agriculture.

Over 400 delegates from around the world gathered in the Scottish capital to discuss new ideas and advances in precision agriculture, both commercially and in research. SOYL was sponsoring the conference and presented three scientific papers, as well as showing the world our services in the commercial exhibition hall.

Over three days, concurrent sessions covered topics as varied as satellite applications, crop disease, precision tillage and weed management, crop sensors, irrigation and precision techniques for grassland. SOYL's technical team was at the forefront, with agricultural development manager, David Whattoff presenting on variable depth cultivation, me on variable rate PGR benefits and SOYL Sweden's Hans Alvemar on his grassland research.

SOYL business development manager, Rory Geldard presented at the commercial session which included discussion on 'the low hanging fruit available for precision ag research and development'. Again the theme of data interpretation and analysis was highlighted as the area of greatest potential and there was particular interest in the MySOYL system Rory described, which acts as a data hub for SOYL customers. In the sponsors tent Rory also fielded enquiries from across the world including Mexico, Australia and China.

Keynote speakers included Rene Von schomberg, scientific officer at the European Commission. He discussed ethical research and innovation and how precision agriculture can fulfil these ethical requirements in the areas of sustainability and societal desirability to bring both environmental and economic benefits.

Matthew Smith from Microsoft Digital outlined the theme of democratisation of data with access from anywhere in the world, normally through a smartphone. 'Big data' is a huge area of potential in precision agriculture and farming as an industry has opportunities in its massive datasets, for example on yield, nutrition, inputs, soil and weather and information coming via new technologies such as moisture and stress sensors. Precision farming is extremely data rich and therefore is able to use data analytics to understand the patterns that control plant growth and yield to ultimately make farming more profitable. Microsoft is investing heavily in making this data available to all, which has exciting prospects for the industry.

It was a great conference in a beautiful city and a hotbed of new ideas and research that will give us all food for thought. Great feedback from the worldwide precision agriculture community also reinforced that our own products and ideas are some of the most innovative in the industry.




​Simon Griffin​
Technical manager
For specific advice for your business related to this blog or any other aspect of precision crop production get in touch with SOYL.