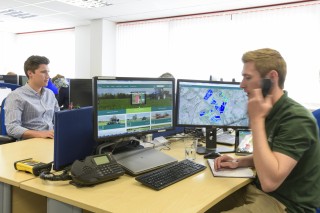 With autumn drilling well underway, I thought I would share a little insight into how our SOYL customer cupport team works with growers during these busy months.
Farmer support
SOYL customer support offers advice and assistance on a variety of different areas in precision farming. From step-by-step guidance for connecting iSOYL to a drill control station, to running an online training session to get the most from MySOYL, our team helps with a range of services. Importantly, we can also give recommendations to ensure you get the most from your nutrient data, as well as help you to create seed plans and custom applications. The list really is quite endless!
There are three dedicated customer support members and over 30 trained staff on hand to take calls. Each enquiry is logged in our support system which gives us the ability to track common trends and highlight periods where we're likely to be busiest so we can effectively manage resource. This combined with our ever-increasing knowledge-base and understanding of technical documents means that we are always ready for your precision farming enquiries.
Hardware
This time of year is particularly busy with queries relating to iSOYL kits. iSOYL is our innovative variable rate system that works with your iPad, letting you control your precision activities direct from the tractor cab.
Our support team are responsible for distributing iSOYL kits and we work to ensure that all of the equipment is up to standard. Every kit is prepped before being delivered to farm to certify that all additional cables, adaptors and parts are included and compatible with the cab hardware.
There are over 50 farming equipment manufacturers that produce a variety of control boxes and so it is down to us to understand exactly what is required to get them to work successfully with iSOYL. A lot of time and effort is invested in communicating with these manufacturers to create a simple set up; ensuring customers have a positive experience and that it is easy to switch to a variable rate application system. We try to do all of the leg work so you don't have to!
If you are still looking to get set up for this season's drilling, please see this previous blog post. Alternatively, you can contact us in customer support or speak directly to your SOYL representative for any additional queries.
​Sampling - field work
Along with supporting our growers, we are also the first line contact for our field sampling and scanning operators. At present, we have over 50 field operatives who spend the majority of their time on farm, taking sample cores and logging positions with specialist equipment. In situations involving field computers and GPS equipment, we are on hand to help with any technical problems they may encounter. With the use of iPads, conductivity scanners, handheld computers, calibrators and UAV drones, it definitely keeps us busy throughout the year.
Problems outside of office hours?
We know that for many growers it can be difficult (sometimes impossible!) to keep to normal office hours. Quite often the breadth of work required just doesn't allow for it and funnily enough, you can't guarantee that you'll only have a question about technology between the hours of 8am and 5pm.
To ensure we can provide support whenever you need it, our team can be contacted 24-hours a day, seven days a week. Should there come a time where you're working late in the field and have an urgent issue, we guarantee that if you call you'll be able to speak to one of our trained employees.
If you have questions regarding any of the above or would like to enquire about any of the specific services mentioned, please do get in touch.
You can email us at This email address is being protected from spambots. You need JavaScript enabled to view it. or call us direct on 01635 204197.