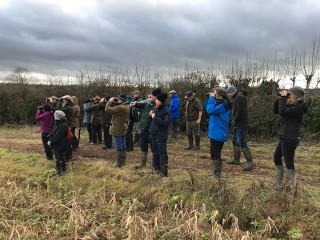 With winter in full swing and farmland birds seeking out all of the opportunities on farm to feed themselves, now is the time to see how they are faring on your own farm.
Each year, the Game and Wildlife Conservation Trust (GWCT) host the Big Farmland Bird Count. Farmers and land managers undertake a lot of work to help protect and nurture the wildlife on their farms, much of which includes efforts to help reverse the decline of our valuable farmland birds. The count was set up to highlight this important conservation work and this year growers have the opportunity to count and record their birds from 9th – 18th February.
Bird ID Days
​Kings Technical Advisors, Neil Harris and Matt Willmott, led over 30 farmers at the GWCT Bird ID Day held at Fawley Court Farm in Herefordshire on 23rd January in preparation for the count. There are several ID days taking place, with each day featuring a presentation from a farmland bird expert followed by a farm walk so that attendees can practice their bird identification skills. Growers can access advice on how best to manage their land for farmland birds and a free ID guide is available with a particular focus on species that are notoriously hard to identify – the 'little brown jobs'. By the end of each day it is hoped that those attending will be able to spot the 20 most-likely species to be encountered on a farm.
Helping your farmland birds
The provision of wild bird seed mixes is a key element in helping farmland birds thrive. Most of the species experiencing a fall in numbers are 'granivorous' birds – they feed primarily on seeds and grain. Wild bird seed mixes provide a winter supply of these food sources which can be made available by planting crops such as cereals, brassicas, millets, quinoa, linseed and sunflowers. Growing mixtures of these crops ensures seed provision over the longest period possible and a food source that is attractive to the widest range of birds.
However, the drawback with wild bird seed mixes is that they tend to run out of steam during January in terms of seed provision. The 'hungry gap' lasts into April which is why supplementary feeding is crucial so that our farmland birds make it through to the breeding season.
Supplementary winter feeding with small seeds like millets, linseed, quinoa and canary seed mixed with wheat and oilseed rape, can extend seed provision until the 'hungry gap' is over. Spinning this mix onto hard tracks near areas of wild bird seed mix from January until late April will attract a large numbers of birds. Species you can expect to see feeding include linnets, yellowhammers, chaffinches, reed bunting and dunnock. With luck you may also see rarer species like tree sparrow and corn bunting.
Both wild bird seed mixes and supplementary winter feeding can be funded through Stewardship schemes with very attractive grant rates provided by Natural England – both of which Kings can support you with.
Whether you choose to implement these options through a Stewardship scheme or off your own back, you will soon notice how many more birds are choosing to make your farm their home. By taking part in the Big Farmland Bird Count you will also be able to measure the effects of the great work you are doing to support farmland birds – what could be more rewarding?
Don't let all your efforts go unrecorded, take part in the Big Farmland Bird Count so we can better understand how our feathered friends are doing and what more we can do to help.

​​Neil Harris​
Kings Technical Advisor
For specific advice for your business related to this blog or any other aspect of crop production get in touch with Kings.