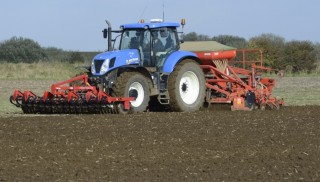 Cultivation and drilling strategy for 2018/19
Weather, a subject always of interest to farmers, seems more topical than ever. Today's 'drought summit' sees NFU president, Minette Batters meeting Whitehall officials amid fears that the heatwave could have a serious affect on food production.
The implications of drought are wide ranging for agriculture. With little additional rain forecast for the next week to ten days (at least) and global heatwaves predicted by scientists as likely to get worse and more frequent, our cultivation and drilling strategy in years to come is likely to be driven increasingly by conditions and not the calendar.
No longer can we say with certainty what is the 'right' course of action from one season or week to the next because there are so many factors at play, as we are all finding out right now. Whoever would have thought that we'd be harvesting wheat in Scotland in July!
The welcome deluge of rain in many places last weekend was well received as we all heaved a sigh of relief. As we enter the main UK drilling window some land will now have near perfect conditions, at least in the short term... but what is the best strategy for those planning cultivation and drilling for season 18/19?
Preserve precious moisture – don't overwork land
Right now, the downpour of water onto the previously arid land will have loosened up the top layer which is good news for those south of the Humber who have harvested very early and are looking to drill a cover crop in early August, perhaps to generate biomass.
It's also good news for those seeking to lightly cultivate post harvest stubble in preparation for the drill. 'Lightly' is the key word here because the aim should be to carry out minimal disturbance using a light set of discs and rolling. Causing more disturbance, or cultivating land that hasn't got enough moisture, will cost more and not only in diesel and worn out points on cultivating machinery. Even then heavy soils may not produce the fine seed bed conditions required for good seed to soil contact and strong germination, particularly with small seed crops such as oilseed rape.
Seed bed conditions good now, but...
The near perfect conditions of soil now will not necessarily last to take us through the optimum drilling time for all crops and regions, particularly for cereals. For many farmers, gaining control of grass weeds should be the target before seed is drilled. Drilling early - or, as may be tempting this season, very early - is never a good idea for those with difficult grass weed scenarios such as black-grass. Annual dormancy monitoring information is not available yet but the weather conditions this year could mean low to moderate dormancy of black-grass. Growers seeking to gain control need to be very patient with the drill, despite an early harvest. Germination, even where moisture is available, could take as little as 40 days in a low dormancy situation. The outlook for now is for another period of extended dry weather. We all know forecasting is fraught with uncertainty but the return of prolonged dry weather could quickly eat into that recent moisture.
Blue mould risk on cereals?
It is too early by far to know if this will be an issue but if ongoing dry conditions return blue mould could be a threat. This is always a risk when seed goes into what seems like a dry seed bed as no germination occurs but there is always sufficient dampness to create the right situation for blue mould development.
Blue mould can be damaging to early crop vigour. It is easy to be wise after drilling but having the foresight to resist drilling when you know it's going to be a problem takes far more managerial will power.
For now, use this window to establish a good cover crop or lightly cultivate land in preparation for drilling. Keep an eye on the weather and soil moisture because it is better to go late into a good seedbed than early into a dry one.