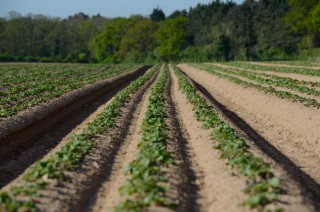 During germination a proportion of viable seeds can fail to emerge due to pests, diseases and soil conditions, impacting the total viable plants in the spring. Conversely, too high a plant population can increase canopy size (GAI) and reduce the ability of individual plants to compete for light and resources, meaning there will be fewer grains on each ear.
Using SOYL Seed
To combat such conditions, our SOYLseed service has been specifically designed to manage the variability of establishment-percent figures, helping to deliver a target plant population of 260 – 300 plants/m2 in the spring.SOYL's establishment-percent figures used in conjunction with SOYL's soil type maps are based on 1,000s of plant counts across multiple soil types around the UK. Plant counts taken and recorded from your own farm will be even more appropriate and specific for your soils, allowing any future variable rate seed plans to be even more precise.By now, the wheat crops drilled this autumn will all have emerged. This means that plant counts can be undertaken to measure actual crop emergence, enabling zone establishment-percent figures to be fine-tuned and fed back into the decision-making process for upcoming years.
How should you conduct a plant count?

To carry out plant counts, choose at least two or three fields. Look at the soil survey, seed rate or establishment map and choose zones of high and low seed rates, establishment and heavy and light areas to assess the emergence over a wide range. Either using a background map on a smartphone, the iSOYLscout app or by pacing it out, locate the sample location in the field.

Using a SOYL quadrant, place it on the ground at least three metres from tramlines and away from headlands, making sure one edge is parallel to the crop row. Count all plants in the quadrant and record the number and GPS location if possible. Once completed, multiply the plant number by four to get plants per m². For an accurate analysis, you should aim to collect counts from between three and five quadrants per zone.
Using the actual counted number of plants per m² and comparing this to the seed rate in the same zone (seeds m²), you can then work out the actual emergence-rate. When calculated, this can be compared to the predicted establishment-percent that was used to calculate the original seed rate. Any differences that are highlighted can be noted and used to inform the seed rate in that zone for the following year.
Importance of timing your counts

Counting plants in November will give the emergence-percent but not establishment. Some plants may die (from pests or from a very cold winter etc.) so any establishment recorded prior to this would be inaccurate. Because of this, it is a good idea for plants to be re-counted in the spring.

For specific advice for your business related to this blog or any other aspect of precision crop production get in touch with SOYL.