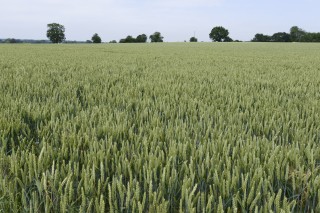 T1 is one of the key fungicide timings and can be the most variable from a fungicide input point of view.
T2 is widely regarded as the most important timing and brings the best yield responses, by protecting the flag leaf. T1 can be used for anything from protecting the freshly emerged leaf-three through to playing catch up because of the weather.
There has been a lot of talk about not using T0s as 'The Beast' left little trace of rust or mildew followed by a very wet period, limiting travelling opportunities.
Given that, in the south, I look after a lot of wheat drilled after the 15th of October, I didn't see it this way. Most of my crops have had a multi-site T0 as a risk management tool for T1. A key factor in this year's T1 decision process is around when leaf-three will emerge, as many crops look to require T1 later than usual. If no T0 has been applied, we are potentially looking at a higher level of disease being present in the crop at the T1 timing.
Remember: T1 is to be applied when two thirds of leaf-three has emerged on the main shoot – this is judged by peeling back leaf layers.
Varieties such as Crusoe (6.8), Elicit (6.4) or KWS Siskin (6.9) will give you a better resistance base to build on as they are inherently stronger against septoria.
You should always consider agronomic features when choosing varieties. Growing a variety more vulnerable to disease without any reason doesn't make sense, unless the variety delivers a higher return to cover the cost of the fungicide and the extra attention to detail required from an agronomy point of view.
The other factor in variety choice, which will be magnified this year, is how the variety develops. The AHDB Recommended List has rudimentary plus/minus days to growth stage 31 which is a helpful guide to show when a crop will get to T1. However, leaf layer inspection will still need to be done for accurate timing.
Drilling timings
Most of the wheat I look after in Oxfordshire and Hampshire is sown in mid-October with good drilling conditions but this year has drifted well into November. This presents some challenges – not only do varieties develop differently when drilled early (such as in September) but their speed of development can be greatly magnified when they are drilled late.
For instance, Skyfall develops much faster than KWS Santiago – on the AHDB Recommended List they will be at least two days apart in maturity. Drilled late (and with the weather pattern seen in March) they could be as much as a week apart at T1, catching up again nearer T2 and harvest.
However, later drilling does reduce disease pressure and I'd almost be as bold to say that it buys you the option not to use an SDHI at T1. There has to be some positives of drilling late for black-grass control too!
Why is there a debate about using SDHIs at T1?
T1 and T2 were the traditional timings for fungicides and have been found to significantly improve yield by controlling disease. Yet, if they significantly improve yield, why are we worrying about using the best product at one of the key fungicide timings?
Fungicide resistance is the biggest driver behind this (as well as cost). One of the best ways to reduce the reliance on fungicides is by increasing the plants natural ability against septoria i.e. investing in genetics first, considering drilling dates etc. Following on from this, to protect the SDHIs we need to use appropriate dose rates, make sure we mix modes of action and include a multi-site.
The answer…
I'm sure there was hope for an easy answer at the end of this blog but, unfortunately, I can't say that there is a one. There are so many factors involved in the T1 decision, it really needs considering from many angles and deciding which is the overriding issue.
If the fungicide timing, drilling date and variety lend themselves to increasing septoria risk, I'd advise using the best product you can as the weather can only set a trend. The current fungicides lend themselves to defence being the best defence, so use a robust programme to get the best protection.
Rob Nightingale
Agronomist