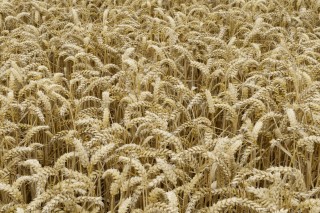 Many people might assume that yield is the best indicator of whether they have got their nitrogen applications right. However, a better indicator is the protein level in the grain.
Grain protein
Grain protein with optimum nitrogen for yield in feed varieties is consistently about 11% (1.9%N). Bread making varieties optimise for yield at around 12% protein and often need extra nitrogen to achieve a market specification of over 13%. Low grain protein indicates sub-optimal nitrogen use.
Why is it important to growers?

Protein content is specified for all bakery flours and is a key part of the contract. For most bread making flour, wheat with protein content above 13% dry matter, is preferred. The effect of higher protein is to increase gluten and give a more stretchy texture during baking.

What's the problem?

Many growers do not reach the required protein levels. The AHDB Quality Survey for high quality group 1 wheat's shows that on average 50% of those who grow milling wheat fail to hit the 13% mark.

Where does precision farming fit in?

The agronomics are that higher yielding crops need extra nitrogen to maintain their protein levels as protein is directly linked to nitrogen content and this is diluted as yields increase.
Variable rate nitrogen applied on the basis of crop biomass, which is a function of nitrogen uptake can give significant increases in grain protein. A survey of 1000s of samples on grain from variable rate and non variable rate fields is shown below.
How does it work?
Higher yielding parts of the field will potentially suffer from lower proteins. These will typically be indicated on our satellite images as areas of higher biomass in the green areas of the satellite image (left below). The mid-end of May application can address this by using the nitrogen reverse model that puts on more fertiliser on these higher yielding areas (in blue on application map below on left) and so reduces nitrogen dilution by matching inputs to crop demand.


Because rates are targeted to crop demand this means that not only is there a quality benefit but that residual nitrogen is lower, improving all important Nutrient Use Efficiency (NUE) and decreasing the potential for any nitrogen losses through leaching.
If you haven't considered the benefits of precision techniques to achieve protein levels, get in touch and we can help.