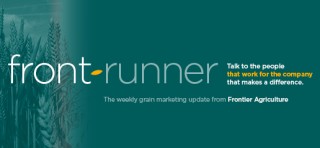 Old crop wheat continues to be offered to the market chasing a finite demand. It now seems that most millers and compounders have only the July transition gap to cover. The air of tightness around the UK balance sheet felt by the market some weeks ago has largely disappeared and now the emphasis is to off load supplies ahead of what is a steep inverse to new crop pricing.
New crop markets have seen a lift in values during the week. However, end consumers have been reluctant to follow through and make purchases whilst it's still a fact that UK wheat prices (at current levels) do not buy export demand for a crop likely to produce a sizable exportable surplus this coming season.
With wet US weather the main factor driving corn prices, wheat is left searching for something new to latch onto for the next directional change to the market. To date, it is hard to find anything amiss with global wheat prospects, leaving the 'bulls' in the market nervous about missing what may be a bubble in the corn-rush saga.
---
Take advantage of recent lift in values
New crop feed barley lifted on the back of the firming wheat prices this week, although barley did not go up one-for-one which resulted in the spread between feed wheat and feed barley increasing. There remains considerable uncertainty around Brexit and the potential impact it could have on barley. We suggest that growers look to take advantage of the recent lift in values and increase their sold percentage of barley, especially growers who know they require harvest movement.
Recent rainfall has helped spring barley crops in most of the UK and today the crop shows plenty of potential. Rain has also fallen in Germany , Poland and Central Europe, all of which were the dry areas again until recently. The market recognises crops will still need more rain between now and harvest but most are happy with crop prospects to date.
Frontier is able to offer a range of marketing solutions to barley growers, including feed barley storage schemes, guaranteed minimum premium malting barley contracts and pools are still open in certain positions. Please speak to your local farm trader for more details.
---
Oilseeds markets have largely moved sideways this week as increased speculation about delayed/prevented plantings in the US Plains has buoyed US soybeans. However, trade guesses on the size of the 18/19 carry out weigh heavy on the market, as do the looming aid payments for farmers announced by the USDA on Thursday (23/05/19). The USDA reported that there will be a $14.5 million dollar aid grant to help farmers affected by the floods and the trade war with China but, as we write, it is unclear how growers will qualify or indeed how this aid will be distributed. It's a sizeable amount of money and the market is speculating that it will incentivise growers to plant soybeans as it's better to have a crop in and an aid payment rather than no crop and apply for prevent plant insurance.
Weather continues to be watched closely in Europe but, for now, crop development is positive with a good mixture of sunshine and rains. In the USA, the forecast for the Plains remains wet right out until the end of May/early June.
Sterling has continued to weaken this week as the continued turmoil over Brexit and the Prime Minister's position has come under renewed scrutiny – this has given ex-farm prices a reasonable boost this week. However, Theresa May has just announced her resignation, effective 7th June. Sterling has rallied but it is unclear what the next move is given the increased uncertainty we now face.
---
The growing pea and bean crops all still look excellent. Although only 10 days since the last heavy rainfall, the crops on lighter land are already looking for another drink. Some of the advanced winter crops will soon be setting pods on the lower flower sites and it's at this stage that growers need to be wary of possible bruchid infestation, especially if temperatures remain above 20⁰C for a period of three or more days.
Little change to market values
The recent rise in wheat futures over the past week has not resulted in a rise in bean values, effectively reducing the premium of beans to wheat. Despite this slight shift, values will need to fall further for us to see beans being viable in compound feed rations, especially with falling soya and other mid-range protein products such as rapeseed meal.
---
It has been another week of talk around new season reset pricing but there is still no actual starting date or physical price. in France, Yara moved the June value into July at a fairly small premium of €6. Most European producers took the move to indicate a firmer stance and looked for more money for spot cargoes. All AN producers have the comfort of a very firm urea market, thus meaning the main alternative to AN is currently out of the game. Granular urea is normally quite sharp for the time of year but a combination of a large order book and weak sterling is not helping negotiations with the UK suppliers.
A reset in the TSP/DAP market is giving UK farmers the chance to buy some straights at lower numbers to this time last year. However, it's important to watch these offers as prices will change in line with currency.
New crop milling premiums look far better than this time last year and nitrogen/yield dilution could affect Class1/2 varieties this harvest. Application of foliar N onto these crops could improve protein levels to avoid costly deductions or even hit specification to give bigger returns. Frontier can offer supplies of Multi N, a foliar product used to lift nitrogen and sulphur levels in a range of crops. For more information about Multi N and how it can be used to support a robust nitrogen programme, speak to your Frontier contact.
---


View markets, set price alerts, manage contracts and take advantage of extended trading hours with MyCropMarketing, Frontier's online grain marketing platform.