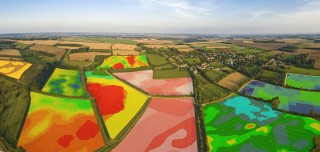 There has been a lot of interest in variable rate nitrogen this season driven by crops that are full of potential, and good market prices. SOYL's variable rate nitrogen service, based on reliable satellite imagery, has proven yield and protein benefits. One way of showing how we achieve these improvements is to show visually how the crop responds to variable rate nitrogen management throughout the season; building that particular field's 'story'.
One field's 2018 story
To illustrate this, we tracked this field all the way through the growing season from before the first nitrogen application in February through to the appearance of ear at growth stage 60 in June.
Beginning in February satellite imagery showed clear differences in crop growth in the field. This was backed up by soil analysis of mineral nitrogen, which confirmed a lack of nitrogen supply in the low biomass areas (red) and good soil nitrogen supply in the higher biomass areas (green).
Variable rate nitrogen plans were made at the first, second and third application timings which were at the beginning of March, April and May respectively. For the first two applications we took an approach where backward areas received more nitrogen to boost low biomass. Meanwhile, well established forward areas, which were well supplied with nitrogen, had less fertiliser in order to optimise canopy size and reduce lodging risk and disease.
The last nitrogen application in May was reversed to supply more nitrogen on the high biomass areas, driving yield and protein in the more fertile areas, while optimising inputs in the areas with less yield potential.
The photographs taken throughout the season show that the canopy difference was evened out between the low and high biomass areas in February which resulted in an optimisation of the canopy across the whole field.
In trials over the last ten years we've demonstrated that by optimising the canopy across the whole field in this way there is typical 4.6% yield increase. Additional benefits include improvement of the protein nitrogen in the grain and an increase in nitrogen use efficiency.
We believe all fields have a story to tell and that satellite imagery is a great place to begin. Get in touch with us to start telling your story this season.
Click here to read our blog from last year about the benefits of variable rate nitrogen.