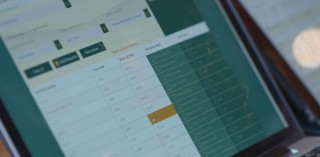 ​Most of the farmers I know keep a watchful eye on commodity prices and use a variety of methods to do so. The method chosen is down to personal choice; it could be speaking to a farm trader, scrolling through Twitter or checking online via the farming press. Making that proactive choice to check; 'Has the grain market gone up, down or even remained static?' is simply routine for arable farmers.
There are lots of ways to check market prices but monitoring is time consuming, sometimes information is out of date almost as soon as it's published and no one can watch a screen around the clock... or can they? Actually that is possible now with advances in technology and the introduction of a new online trading tool MyCropMarketing.
Every day our market is changing; sometimes volatile, sometimes not. This is affected by a number of constantly shifting domestic and global factors including currency, politics, Brexit negotiations and the weather in distant countries such as Australia or South America.
Our industry is part of a huge global market with information constantly being published and updated from a multitude of sources. At Frontier we ourselves regularly publish market information through our Twitter feed, and blogs such as Frontrunner and the midweek market update.
It's easy to see how when looking for and monitoring specific information, such as prices for a particular commodity, farmers can be faced with overload and it can be difficult to keep track of what is happening with prices hour by hour. A farm trader can condense and channel information to you which does help, although that's not always immediately possible. For example, when something said by the US president at 3am UK-time causes the global wheat market to spike or trough while you and your trader are both fast asleep!
One way to keep a constant eye on the market, even when you are otherwise engaged, is using an online tool such as MyCropMarketing which is part of Frontier's MyFarm farm management platform. The technology it delivers can be harnessed to be your very own, ever-watching grain marketing assistant. As well as enabling you to sell grain and check your contracts, it monitors the market and commodities for you 24/7 using pricing parameters set by you.You can set a target sale price and if it's reached you will be alerted by text or email. Meaning you can get on with your day safe in the knowledge that MyCropMarketing is watching the market for you, ready to alert you as soon as your target is reached.
How it works
MyCropMarketing enables you to enter a few simple pieces of information about the potential sale you are interested in setting: collection address, commodity, variety and specification (you can save these as a favourites):

Next, you select a contract period:
Lastly, you enter a target price:
Once your target price is set you will be alerted by email and text when it is reached.
So the next time the aforementioned president makes a controversial market-affecting tweet and there is a sudden market swing in the early hours, while all the commotion continues you can be safe knowing that prices won't hit your target (and potentially fall back again) without you being alerted.
MyCropMarketing is available through Frontier's MyFarm farm management platformto find out more or arrange a demonstration contact: This email address is being protected from spambots. You need JavaScript enabled to view it. or call us on 03330 141141.