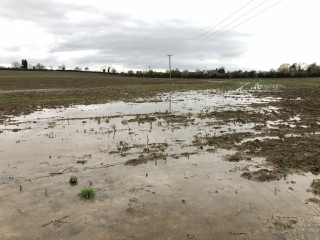 Well, it won't be surprising to learn that many soils will have lost nitrogen via leaching.
To demonstrate the impact, AHDB has produced a map to show the winter rainfall classification. This forms part of the RB209 book method for producing a Soil Nitrogen Supply (SNS) index and is a good starting point as you begin to look at your nitrogen programme for this spring.
However, rather than rely solely on this information, our team at Frontier decided to carry out the measurement of Soil Mineral Nitrogen (kg N/ha) at a number of nationwide trial sites. The findings are outlined in the below table.
As an average, the book-based RB209 method is calculating a SNS index of 2. However, after carrying out some analysis of the Soil Mineral Nitrogen using CF Fertilisers' N-Min Service, the index levels were reduced to an average of index 0 as seen in Figure 2.
If we take wheat as an example, it will have increased by as much as 60kg N/ha against the RB209 nitrogen recommendation (based on standard yields). At this stage in the farming year we don't yet know yield potential or the type of weather Mother Nature could still throw at us, so don't rush out to apply increased amounts of early nitrogen across the field.
If you have any backward crops these will need nitrogen and sulphur in small amounts to reflect demand and the leaching risk, as well fresh phosphorous to improve rooting if possible. As always, overall considerations must be taken around soil conditions in relation to weather events both before and after fertiliser applications.
Don't forget to monitor sulphur too
While it's clear to see that there have been significant winter losses of nitrogen, we can also assume that the levels of available sulphur will have also decreased. I know that a large proportion of UK crops are receiving sulphur already but, for the 2020 season, you may need to consider increasing inputs as we are likely to be in the high risk category as shown in Figure 3 (or the medium at the very least).
If your current fertiliser programme does not contain sulphur, this is the year to introduce it for all crops on the farm. Don't compromise by trying to fit a product in and then not making the application; every single crop is likely to benefit from sulphur this season.

Applying sulphur to pulses
Historically, delivering sulphur to pulse crops in particular has been quite difficult. Thankfully, there is now a family of PolysulphateTM products from ICL – one of which is our PKpluS compound which can efficiently apply phosphate, potash and sulphur in one pass. You can read more about the product and its benefits in a blog published by my colleague, Andrew Wilkin.
Getting the most from spring nutrition

I am aware that the priority from September until November was so focused on getting a cereal crop in the ground that any autumn P and K inputs could have been missed or delayed. There is still the potential for decent yield uplifts from fresh spring P and K; this is especially true for phosphorous given the poor rooting of our winter cereals.
Spring cereals will need nutrition very early so that crops come out of the ground and accelerate through their growth stages. I would recommend looking at products such as Sulphur Gold 29N 20S and supplying PK separately, or look to apply a CF NPKS compound to provide all nutrients in every application.
The overall efficiency of our applied nutrients is absolutely critical too. We must make sure we are giving each kilogram of nutrient every possible opportunity to get into the plant. Although this approach is crucial for every season or year, I would argue that nutrient efficiency in spring 2020 is more important than ever.
Consider these points in particular:
A 'little and often' approach when delivering nutrients can improve efficiency of uptake
Monitor crop development. There will be variation in crop growth across both field and farm, so make use of the tools available such as SOYL's biomass imagery to review nutrition plans
In-field assessments. Get your agronomist to use tools such as the Yara N-Tester or physically sample the leaf and send it off for laboratory analysis.
As these 'variable seasons' appear to be more common place, we need to have an overall level of versatility. Let's consider purchasing products that can be more universal for our cropping types and application timings.
​
For help with anything above, please get in touch or contact your local Frontier contact.