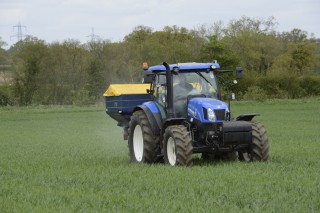 The use of phosphate fertilisers has always caused more confusion than other nutrients.Choice of fertiliser to give the best long and short term availability is often a topic we are asked by growers.
Different forms of phosphate (such as orthophosphate or dicalcium phosphate) and the complex relationship that phosphate has with calcium, iron and pH further confuses the issue.Waste products from power stations and abattoirs are also commonly marketed as phosphate fertilisers – not forgetting organic inputs such as farm yard manure (FYM) and sewage sludge.
With this in mind, how does one decide what is the 'best' or most appropriate fertiliser?
Water solubility
One thing to look out for on the side of the fertiliser bag is the % water solubility. TSP, MAP and DAP are all orthophosphates and are over 90% soluble in water. This means that they are more likely to become available quickly and therefore taken up by the plant.As a result, these types are ideally suited to autumn applications, particularly on low P index soils as the young plant will be able to access the phosphate in solution.
This has been clearly evident in recent Frontier trial results:
​Where does the phosphate go?
Something else that often causes confusion is what becomes of phosphate a few weeks after application. Many people claim it is locked up, when in reality it will enter into the storage pool in the soil which becomes available much more slowly. This means that it will be taken up by the crop at a later date; often the following spring.
There are also claims about MAP and DAP creating a different pH environment around the root and increasing availability. However, the soil reactions are actually transitory and TSP, MAP and DAP are all good sources of phosphate that are available over a period of time.
Insoluble products
Unlike the above, there are some phosphate-containing products which are not very soluble in water. These tend to be waste products, often ash-based products coming from power stations, burning manures, straw and meat/bone meal. Typically, these have their solubility declared in citric acid and not in water. They take longer to release phosphate into the soil and will be slower on higher pH soils as some level of acidity is needed to encourage solubility.
More traditional organic inputs, such as manures and sewage sludge will however, contain phosphates that are available to the plant like phosphate fertilisers. These will typically have 50% of phosphate available for the first crop, with the remainder available in the following crop.
So, what is the best fertiliser?
Back to the question in hand, it really comes down to understanding the differences between the different fertilisers, their short and long term availability and choosing the right product for the job. As a rule of thumb, the higher the soil nutrient indices, the less critical this choice is. However, at lower indices, it is particularly important to choose a product that will be quickly and efficiently available to the crop as otherwise the crop may underperform, producing a lower yield.