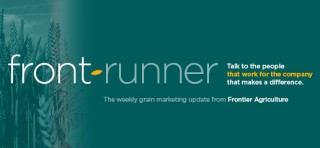 WHEAT
Demand quenched by imports
The UK domestic market for old crop continued to remain well supported this week for supplies of both feed and quality wheat with the deficit areas of the west and north pulling on remaining supplies. The constraints on road freight availability are hindering trade flows from surplus southern grain areas, to overcome these difficulties we have seen increased activity in imports into the northern regions. Today the market recognises that due to logistic constraints the physical market feels relatively tight when compared to statistical supply and demand numbers.
New crop markets took a breather from last week's levels as wheat markets briefly abated. World traders remain on watch in many key producing countries which now require conducive growing conditions to coax crops through to harvest. A sell off looks unlikely at this point in time, with any further production shocks will add support to the complex.
---
BARLEY
Weather could affect plentiful stock
Most UK spring barley crops are looking well and have caught up, despite being sown late. EU malting barley prices have firmed towards the end of the week following continental malsters looking to cover recent malt sales, and a forecast that shows little rain for Scandinavian and UK crops over the next week. On paper the EU still has a plentiful surplus of malting barley but weather between now and harvest will be critical to both yield and quality. The market will be watching it closely.
Old crop feed barley remains very tight in certain parts of the UK and prices are trading very close to feed wheat values. Harvest feed barley is a large discount to old crop so the advice is to make sure that all old crop barley is sold before harvest – nobody wants to be left with old crop stocks before new crop arrives!
---
​OILSEED RAPE
This week, the Matif rapeseed value saw some benefit from a combination of higher energy prices and higher vegetable oil markets and a weaker euro. We have seen this week further commitments to import seed from the Baltic region and Australian, which has been more attractive to the UK processors. The association of German farm cooperatives forecast that their rapeseed crop would fall 3.3 percent to 4.12 million tonnes this coming season which has offered support for new crop values.
Harvest updates from Argentina show further decreases in their crop by 2 million tonnes to 36 million tonnes, due to poor weather in their harvesting period. Uruguay soybean production is also expected to drop by around 50% to an estimated 1.85 million tonnes this year.
Australia continues to suffer, with an already decreased planting area being affected by further dryness. Canada is having some issues in their canola crop due to dryness, however decent soil moisture allows the crops to develop for the time being.
This week, Chinese soybean plantings were announced to be up 8.5% (China Ministry of Agriculture), part of an effort from China to reduce their potential dependence on US soybean imports.
There has been a favourable start to soybean plantings in the US, with decent growing conditions prevailing. In current circumstances it would be fair to conclude that the US will fulfil their predicted planting levels.
Again, the main issue bearing over the oilseed market is the ongoing trade tension between the US and China. The general feeling this week was pessimistic, as a deal seems nowhere near completion.
This week the price of crude oil soared along with good overall strength in the energy market. This has offered some support to worldwide oilseed prices.
---
PULSES
Old crop bean markets continue to strengthen as dwindling supplies are unable to keep up with spot demand. The focus of the demand has switched away from the east coast ports and is now driven by consumer buying interest in the Midlands, as well as the northern and southern west feed mills.
New crop values are still supported by stronger wheat prices but last week, as wheat futures gained strength, bean buyers did not follow and subsequently the premium of feed beans over wheat futures declined a little.
With winter crops in flower and recently planted spring beans all evenly germinated and growing away from weevil attacks it may be that premiums have peaked on new crop values.
---
FERTILISER
This time last year the UK nitrogen and nitrogen sulphur market had been running for three days and over 30% of the market was already concluded. This year, due in main to the spring weather and the delayed grassland market in the west, no new season offers are out as yet. The main arable reset campaign is expected in the next few days/weeks but as to when remains unclear. Earlier this week, Yara released a new season reset price for Europe, based on granular 33.5% that was $10 higher than May '17. CF Fertilisers has not reacted to these new terms and remains happy to sit out for the moment.
Currency has not helped urea traders again this week, so no change from last week on new season granular urea. The market is very quiet with farmers waiting to see the new CF Fertiliser terms before making a decision. Keep in touch with your Frontier contact for more information.
Some blenders are worried about current currency issues affecting the MOP, TSP, DAP and PKs more than NPKs. With more potash being imported to the UK due to lower production at Cleveland, currency will have a greater influence. In most seasons, we see a summer reset on MOP, TSP and DAP so, once the Royal wedding has been and gone, we can get back to normality!
More interest this week in liquids for oilseed rape and milling wheats. Again, speak to your Frontier contact.