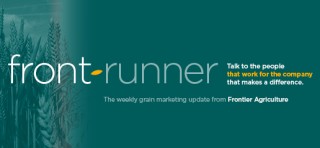 Damaging heat and prolonged dry weather coupled with a fall in the value of sterling versus the euro have driven wheat prices higher again this week. Since the beginning of May, London 2020 wheat futures have gained almost £15/t. This is a particularly impressive performance when compared to French wheat futures, which, over the same period, have increased by little more than €3. Unfortunately, not all farmers will benefit from this. The prolonged wet drilling conditions throughout the autumn and winter period prevented planting in vast areas of the country and will result in the smallest UK wheat crop since the 1970s.

You can also listen to Frontrunner - press play to hear the latest report on SoundCloud.

Read this week by Farm Trader, Luke Cox.